Conflict Free + Naturally Effective
Literature Review
Shea Terra organics began as a childhood promise to alleviate poverty by creating sustainable economic opportunities. Shea Terra Founder: Tammie Umbel, a self-taught businesswoman built a 1.7 million dollar beauty business. She was saddened by images of impoverished children living in difficult conditions so she vowed that one day she would create jobs for these communities so they can provide for themselves. Shea Terra is the result of this promise and today creates economic opportunities for dozen of communities and thousands of individuals across Africa. Tammie turned her knowledge of indigenous beauty secrets and love of herbal remedies for the answer to naturally effective skincare. She travels around the world finding raw materials for her products and sources to bottle for use. Shea Terra is a high quality, affordable brand that supports local communities and the environment. This brand is truly an inspiring entrepreneurial journey. There's a reason the Rose Hips Black Soap Face Wash was featured in Forbes, the reddit waves are booming, and the beloved Sarah Jessica Parker is a believer: Shea Terra products are the truth.
Progress Notes
Shea Terra has a reputation for delivering results with time-tested ingredients backed by thousands of years of traditional usage and modern science. All Shea Terra products are free of animal testing, parabens, SLS, soy, sulfates, synthetic fragrances, thickeners, mineral oil, nanos, and synthetic colors. Ingredients in the line include raw materials such as Baobab, Shea Butter, Berbere Fig, Yangu, Black Seed, Argan, Rose Hips, Blue Lotus, Sidr, Tamanu, Shaafe Wood, Oontanga, and Lote Fruit just to name a few. Although Shea Terra has been around since 2000, the ingredients used date back to the beginning of time. Using these products is a journey of rediscovering the natural elements that have beautified and healed humans since the first walk on earth. Jump in for the review of a few of their facial oils + beauty water.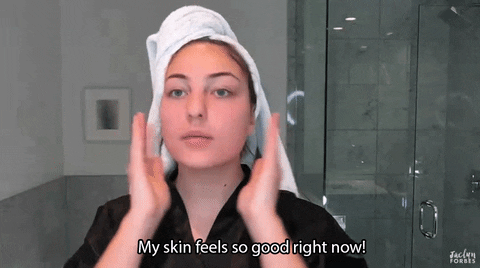 PREP
Boswellia Beauty Water
Key Ingredients: 100% Pure, distilled Boswellia water
I make sure to take some time to see how each product interacts with my skin prior to write up. I prepped the face with Shea Terra's beauty water to allow the treatment properties of the oils to work its way into the skin. Boswellia Beauty Water is the water created from distilling frankincense. This powerful water provides skin with a myriad of benefits. It helps to reduce overproduction of oil while also providing skin softening properties for all skin types. Boswellia Beauty Water can be used as a daily toner. It could also reduce blemishes and calm angry skin. There is a light earthy scent to the product, but nothing that lingers on your face. The pressure of the aerator pump releases the product in stout sprays, so you will need at minimum 2. The formula allows a few minutes of staying power of the water and does not dry easily.
Treat
Mongongo Cold Pressed Beauty Oil
Key Ingredients: 100% Pure, Cold Pressed Mongongo Oil
Mongongo Beauty Oil has been used by the indigenous peoples of southern Africa to help protect and regenerate their skin against the harsh desert conditions for thousands of years. High in vitamin E, Mongongo Beauty Oil helps to repair damaged and aging skin. Shea Terra indicates that Mongongo Beauty Oil is perfect under makeup and helps improve strength and condition of hair. After a few weeks of use, I would determine this product best used for hair and dehydrated areas of your skin: elbows, knees, heels. as the Mongongo oil is quite thick. If you're on the east coast, I would recommend this as a facial oil only for the harsh and bitter winters. This is a pure oil, so not only does a little go a long way, but you are able to truly get the benefit as intended.
Egyptian Pomegranate Cold Pressed Oil
Key Ingredients: 100% pure, cold pressed pomegranate seed oil
This is a nutritive, light Egyptian Pomegranate Seed Oil. Rich in omega-5, a unique fatty acid, as well as anti-oxidants and phytosterols, Egyptian Pomegranate Seed Oil helps protect skin against free radical scavengers as well as helping decrease skin damage and the appearance of wrinkles. Pomegranate is an amazing topical treatment, especially for combination skin like mine. The anti inflammatory properties of pomegranate facilitate quick healing, skin restoration, and combats hyper-pigmentation and acne development. This product is rich in antioxidants which helps for collagen production and getting you to the glow. I used this oil in a face mask with yoghurt and applied all over my face and neck for 20-25 minutes and rinse after. The results were total face rejuvenation and brightening effects. Interestingly enough, the oil does not have a pomegranate scent, but does retain it's pink/purple hue. Out of all three of the oils, the pomegranate was the lightest and layered well with my other skincare products.
Tamanu Cold Pressed Beauty Oil
Key Ingredients: 100% Pure, Cold Pressed Tamanu Oil
Tamanu is a powerful beauty oil that will transform your skin. It's an anti-aging, skin regeneration oil extracted from Tamanu nuts in the Vohibola Forest. This product would be good for if you're looking to introduce a facial oil into your routine that duals as an anti-aging product. It has a greenish hue and can be used directly on the skin or mixed within formulations, BUT- this oil is a bit tacky, so test it out prior to mixing with any other base products. It stores well under any condition but extreme heat will lessen the shelf life. This pure oil is a wonder remedy, as it helps with many different skin problems and conditions. If you maintain an anti-aging treatment this would be a good layer for night-time routines. The oil has a mild nut and woodsy scent. This oil can also help relieve from skin bites and redness on the skin.
Debrief
Unboxing Experience: You should know by now that I'm pretty critical of packaging. It's because first impressions set the tone for product application, prior to use and measure of effectiveness. The link between visual aesthetics and branding is super important for identification of the brand and where it fits on my top shelf. There needs to be some form of emotional connection to the product to ensure it stays a priority. For me it's about a fostered sense of brand loyalty. That being said, I've got to take points off for this unboxing experience. It's tough because the Shea Terra formulas are legit, but they never seem to be my first reach during am/pm routine. Generally, I'll keep 1-2 hydration mists, oils, and other treatments around and I found myself neglecting this water/oil. With such an inspiring story of success and products that are naturally sourced, I would expect this brand to have a stronger visual identity and community and I'm not sure what the aesthetic is. Strong powerful products, need a strong and clear theme and visual message, what is my buy in? I really believe these products should be more well known and what drives the word-of-mouth phenomenon is when you are able to reach for products and use it consistently. We are social beings, so I would love to se Shea Terra really embrace a new approach to connect it's users together to a specific home base.
Effectiveness: I start evaluating products from the moment it gets to my house till about 14-21 days of use. Each of the oils blended easily and did not feel overly sticky or heavy. They were able settle into my skin without suffocating it or feeling as if it was just laying on top of it. All of the Shea Terra products are made from raw ingredients imported from Southern Africa. If you're just starting your journey on beauty oils, it's important to note that there is a beauty in understanding each role and targeting your desired result. It takes a bit of work, trial and error, but the pay off for the glow is worth it. When targeting specific oils, keep in mind the importance of cold pressed oils to give you the pure results you're looking for. Shea Terra is a strong brand to help you start that process. When your oils are diluted you will yield different effects from use. I am a strong advocate of the body healing itself in addition to products sourced from the earth to assist in healing. These oils help to provide speedy recoverey of skin with little to no scarring.
Cost To Use Ratio: Solid. Each 2 ounce bottle of oil has a median ticket of $24 and considering the quality of the product that is a pretty affordable tag for a non-synthetic imported product. It would be nice if there was some form of oil sampler pallet one could purchase to gauge their liking of the product without having to commit to a full size!
Feel free to share the love via the links below to someone who could also use a few beauty oil ideas. You can like this post below via heart-moji and be sure to share this with a friend. Follow-up in one week!
Best, Dr. Dyce
+all photos taken by yourweeklyfollowup
+Many thanks to Shea Terra Organics for their support in this blog. This is not a sponsored post + products were provided for editorial consideration. All opinions and thoughts about the businesses featured are my own. I stay true to your weekly followup + my aesthetic.